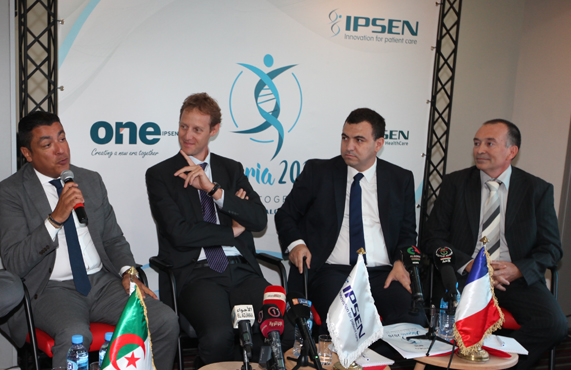 As part of government efforts to address the increasing prevalence of cancer in the country and reduce reliance on imports, Algeria is set to start building its first facility for the manufacture of oncology drugs before the end of 2018.
The France-based pharmaceutical manufacturer Ipsen and its Algerian partner Isly Holding announced the establishment of Ipsen Pharma Algérie in September 2018. The joint venture is organised in accordance with the country's 51:49 rule, which limits the maximum permitted participating stake of foreign shareholders in Algerian companies to 49%.
With an initial investment of €20m, the company plans to build a 3000-sq-metre facility in Sidi Abdellah, a suburb of Algiers.
Pharmaceutical production is slated to begin in 2021, enabling the country to reduce national expenditure on imports of life-saving cancer medication. According to Adlane Soudani, CEO of the new firm, the factory will save the country €20m a year on imports once it becomes fully operational.
The establishment of the facility reflects a broader trend of increased investment in domestic drug manufacturing. Indeed, the country became home to the largest drug production and distribution facility on the continent in October 2018, with the inauguration of the Sanofi Algérie complex.
Also located in Sidi Abdellah, the AD10.6bn (€78.1m) factory stretches over 6.6 ha and is set to produce more than 100m units per year covering a repertoire of 100 products related to cardiology, neurology, diabetes and pain-management.
The Ministry of Health, Population and Hospital Reform (Ministère de la Santé, de la Population et de la Réforme Hospitalière, MSPRH) is currently validating all of the drugs manufactured at the facility. Following the completion of this vetting process, the commercial sale of the facility's products is expected to begin in 2019.
Upon becoming fully operational, the new complex, Sanofi's largest in Africa, is set to increase the company's share of domestically manufactured pharmaceuticals to 80%, from its current level of 65%.
Rising cancer rates
In line with other rapidly developing countries, Algeria has experienced a rising prevalence of non-communicable diseases. Increased urbanisation and changing consumer lifestyles have been linked to an increased incidence rate of cancer, as well as heart disease and diabetes, while rapid population growth has driven up the number of overall diagnoses.
Between 42,000 and 45,000 new cancer diagnoses are registered each year in the country, and this number is expected to increase to over 61,000 by 2025, according to the National Network of Cancer Registries.
As a result of these trends, the country's universal health care system is facing a mounting budgetary challenge. Each incidence of cancer costs the state an average AD5m (€36,900), according to the MSPRH, with the cost of cancer medication accounting for 60% of total expenditure at public pharmacies.
Government strategy to combat rising incidence of cancer
The new manufacturing facilities dovetail with the government's National Cancer Plan 2015-19, which aims to expand oncology infrastructure and promote training in cancer treatment, while also reducing risk through preventative campaigns.
As part of these efforts, four new publically owned cancer-treatment facilities are expected to open by the end of 2018, in addition to 13 already established facilities. The centres will be equipped with 12 new radiotherapy accelerators, bringing the total number to 48, of which 10 are in the private sector.
This increase in oncology equipment is significant, given that the country had only seven radiotherapy accelerators in 2013.
"Algeria is deeply committed to improving healthcare services for all its citizens. The national plans for oncology and cancer treatment, as well as the focus on other non-communicable diseases such as diabetes or hypertension, demonstrate this commitment to better Algerians' health," Haissam Chraiteh, general manager of Sanofi Algeria, told OBG.
Rising investment across the pharmaceuticals market
The new oncology drug manufacturing plant forms part of a larger move on the part of international investors to make inroads into the burgeoning Algerian pharmaceutical market.
Driven by a rising population, increased incidence of non-communicable disease and a government-driven initiative to boost domestic manufacturing, between three and four new factories producing pharmaceuticals open every year.
As a result of this process, domestic production of pharmaceuticals has risen dramatically over the last decade, with the share of locally manufactured medicines rising from 25% in 2008 to 65% in 2018.
With this production rate set to experience a significant boost from the opening of the Sanofi Algérie complex in 2019 and the Ipsen Pharma Algérie facility in 2021, the country appears on track to not only reduce pharmaceutical imports, but also become a significant exporter of drugs within the region.